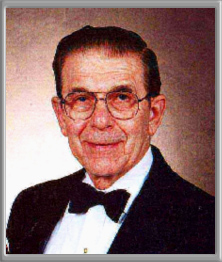 Bart Pearson
Born in Latrobe, PA on Mar. 20, 1928, departed on Jan. 29, 2004 and resided in Groton, CT.
Bart Pearson, 75, died on Thursday, Jan 29, 2004 at Lawrence Memorial Hospital
Bart was born in Latrobe Pennsylvania, and joined the Navy after graduation from Georges Township High School in 1946. He left the Navy in 1949 to complete his Degree in Business at the University of Pennsylvania. He subsequently returned to the Navy where he served honorably until he retired as a Commander in 1975. Bart's service decorations include those from WWII, Korea and Vietnam.
While serving in the Navy, Bart gained conversational fluency in the Japanese and South Vietnamese languages. Shortly after his retirement he completed his MBA from UCONN.
Bart was predeceased by his wife of 51 years, Win Pearson. They met while he was stationed at the Submarine Base. He was a deeply devoted husband until her death in December 2003.
Bart was a loving father to his son Mark and daughter in law Brenda as well as their dog Clancy.
Two brothers Ken and Ed as well as a sister Veronica survive him.
He was active in the Subase Catholic Church community where he was a communicant at the Shepherd of the Sea Chapel in Groton, lector, lay eucharistic minister, religious education teacher as well as member of the Parish Council. He was also active in The Retired Military Officers Spouses Association and the Military Officers Association of America and his absence will greatly be missed by many.
Relatives and friends are invited to attend a Mass of Christian Burial to be celebrated on 1:00 PM Thursday , February 5, at Shepherd of the Sea Chapel, Gungywamp Road, Groton. Burial will be in Saint Mary Cemetery New London.
Contributions may be made in his name to Academy of the Holy Family, 54 West Main Road, Baltic CT 06330.
This information originally published at www.byles.com. The family invites you to visit the web site for directions, online register book or to send a note of condolence.