Friends and Shipmates,
On 11 September, my sister's husband, Captain Bob Dolan (OPNAV N513 Branch Head and former C.O., USS John Hancock) perished in the terrorist attack on the Pentagon. Bob was not only my brother-in-law, but also a close friend and Shipmate. He met my sister while he and I were both Midshipmen in the same Naval Academy company.
Some of you may be interested in reading my sister's statement honoring her husband and all those who perished, which appeared in USA Today on Friday, 21 September, page A23. I am attaching an MS Word copy of the statement and Bob's bio. (I trust if you forward these that they will not be altered--if there is any question of veracity down the line, contact me and I will ensure they are accurate: [email protected])
I feel compelled to tell a few "sea stories" about Bob Dolan that I think you will appreciate...
About three years ago, upon assuming command of the destroyer USS John Hancock, Bob took up the mantle of the ship's motto: "First for Freedom." In spite of the sorrowful tragedy, I am proud he continued to fulfill this legacy when he perished in the first wave of what President Bush has called "the first war of the 21st Century." He has now left it to us to follow his magnificent lifelong example of sacrifice and commitment to freedom, family, and service.
Having worked the following matters directly themselves, many of our friends in the naval strategy arena will especially appreciate this next twist. Bob's latest assignment as Head of the Strategy and Concepts Branch (N513) for the Chief of Naval Operations put him in the center of the development of 21st Century naval and defense strategy, including Homeland Defense and dealing with "asymmetric threats." What our forces are about to undertake is the leading edge of what Bob has helped develop. His contribution continues to make a difference to the defense and security of the nation, and I am confident he will make his mark on our enemies very soon. Bob's contributions to this effort are being recognized with a posthumous Legion of Merit, in addition to the Purple Heart.
I must also share a brief and miraculous story with you. Last week, I received a phone call from an FBI agent working at the site of the Pentagon attack. He was a USNA ' 89 alumnus. As buckets of debris were being removed from the site, he noticed a Naval Academy 1981 class ring, which turned out to be Bob's. (We Academy types are advised to have our name engraved in our rings because they always seem to find their way home.) I went down to the Pentagon to receive the ring. When I arrived, he was in his SUV with Lee Greenwood's "God Bless the USA" playing on the stereo. As he handed me the ring, we hugged and cried together--the longest and deepest cry I have had since this tragedy struck. Enroute home, I stopped at Bob's favorite bar in Alexandria, "Murphy's," and drank a beer with 4 other of Bob's closest friends. We left Bob's beer glass full on the bar as sort of a "missing man" formation. Lisa now wears the ring around her neck, just like she did the day of Bob's USNA ring dance.
Family and friends have set up a fund to support Bob's wife, Lisa, and their two children, Rebecca (15) and Beau (9).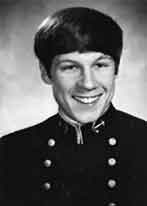 Robert E. Dolan, USNA 1981
In the very near term, the fund will be used for critical family expenses and eventually it will be used as a conduit to an education trust for the children. I am personally administering the fund, so you can trust me that it will be used as intended. In the near future we hope to have a web site established for point-and-click credit donations, but as of now donations are being received by check. Anyone that would like to contribute can do so as follows:
make checks payable to:
"The Captain Robert E. Dolan Fund"
mail to:
The Captain Robert E. Dolan Fund
Attention VA4027 (Donnell Kearney)
First Union National Bank
PO Box 7606
McLean, VA 22106-9853
When details of funeral services are established, they will be posted on the usna.com web site, and I can pass word directly to anyone who is interested. Thank you all for your thoughts and prayers. Feel free to forward this email to anyone for whom you would deem it appropriate.
God bless you and God bless the USA. We will prevail.
Mark Tempestilli
Captain, USN
USNA '79

---
Duty Stations:
USS Inchon (LPH 12) [82-84]
EODisposal Mobile Unit TWO [85-87]
Commander, MinWarCom [87-89]
USS Joseph Hewes (FFG 1078) [90-91]
USS Richmoind K. Turner (CG 20) [91-93]
USS Thomas S. Gates (CG 51) [94-95]
Joint Chiefs of Staff [95-97]
USS John Hancock (DD 981) [98-00]
Chief of Naval Operations [00-01]

Awards and Decorations:
Legion of Merit
Purple Heart
Defense Meritorious Service Medal (1)
Meritorious Service Medal (2)
Navy and Marine Corps Commendation Medal (4)
Navy and Marine Corps Achievement Medal (1)
Navy Unit Commendation
Navy Meritorious Unit Commendation
Navy Expeditionary Medal (2)
Sea Service Deployment Ribbon (4)