USS Enterprise Battle Group Deep Sixes Decommissioned Cruiser
by JOC (SW) Scott Fleming, USS Enterprise Public Affairs
---
NEAR PUERTO RICO (NWSA) -- The USS Enterprise (CVN 65) Battle Group sunk the former USS Richmond K. Turner (CG 20) during a Sink Exercise (SINKEX) near Puerto Rico Aug. 9. SINKEX developed the battle group's coordination of combined air and surface assaults, verified the performance of several weapons systems and enhanced the integration of joint units into naval battle scenarios. USS Philippine Sea (CG 58), USS Thorn (DD 988), USS Nicholson (DD 982) and Carrier Air Wing (CVW) THREE also sent a parade of high-altitude, anti-radiation missiles, Harpoon anti-ship missiles and an assortment of laser- guided munitions to the decommissioned cruiser. The Air Force participated with a trio of 2,000-pound bombs.
Richmond K. Turner sank in nearly 3,000 fathoms of water. The battle group took several steps to avoid undue harm to the immediate area."We did acoustic and radar searches in the three-nautical-mile radius surrounding the target to ensure the area was free from marine life," LCDR John Lobb, assistant maritime operations officer for the Enterprise Battle Group, said. "We also had to ensure the ship sank in at least 1,000 fathoms of water." In addition to the tactical aspect of the evolution, SINKEX also provided the Enterprise Battle Group ordnance experts with a practical opportunity to work on their handling and arming proficiency. Support aircraft had similar chances to rehearse their respective disciplines, including surface surveillance, airborne command and control, and photographic reconnaissance.
---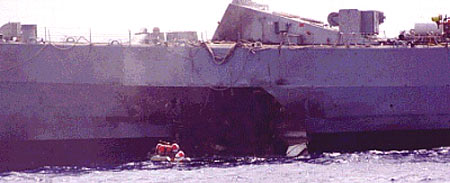 Shot 1 was an equivalent warhead to a threat anti-ship missile,
placed 6 feet inboard the port side shell in a forward berthing compartment.