The keel of the USS RICHMOND K. TURNER was laid on January 9, 1961 by New York Shipbuilding Corporation in Camden, New Jersey. One of nine Leahy-class "double-ended" guided missile destroyers.
USS RICHMOND K. TURNER departed San Diego June 4, 1965 her first deployment to the Western Pacific. She joined Task Force 77 in the South China Sea area and served as missile support ship for the attack carriers CORAL SEA (CVA 43), INDEPENDENCE (CV 62), and ORISKANY (CV 34).
She was reassigned to the Search and Rescue Destroyer Unit in the Tonkin Gulf in September 1965. After participating in missions in which eight aviators were rescued, she departed Subic Bay and arrived San Diego December 18.
She departed for her third tour off Vietnam June 10, 1968, and contributed to Fleet readiness in Asian waters until returning to San Diego in December 1968.
On March 22, 1971, she embarked for Bath, Maine and arrived at the Bath Iron Works on April 27. She was decommissioned May 5, under a Navy wide program to enhance the anti-air warfare capability of major guided missile ships. TURNER was recommissioned at Bath Iron Works on May 17, 1972.
RICHMOND K. TURNER was redesignated a CG-20 in July of 1975 and participated in Operation 200 which included the International Naval Review in New York City for the Nation's Bicentennial Celebration on July 4, 1976.
In September 1978 the TURNER reported to GTMO for REFTRAY. The day after arrival Turner was directed to intercept and conduct surveillance of Soviet Naval units operating in the West Indies. With that task completed Turner was then directed to transit the Panama Canal and conduct surveillance operations off the contiguous waters of western Nicaragua. The Turner received the Meritorious Unit Commendation for these operations in March 1979. In July of 1979, While operating with the 6th Fleet, Turner successfully launched a Harpoon missile in the Gulf of Sidra, destroying the target at a range of 78 miles. This was the first firing of a Harpoon missile from a deployed US Navy Ship.
TURNER also completed a 1988 deployment to the Persian Gulf and was a participant of Operation Earnest Will.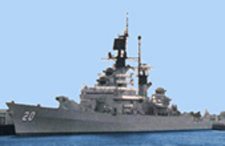 R.K. TURNER
In response to the crisis in the Persian Gulf caused by Iraq's invasion of Kuwait, RICHMOND K. TURNER deployed early as a primary AAW unit in the THEODORE ROOSEVELT (CVN 71) battle group, which arrived in the theater just before hostilities broke out. During 60 days in the Persian Gulf, TURNER provided protection to four carriers and served as an advance picket ship in the mine infested waters off Kuwait. Following the cease fire, TURNER relocated to the Red Sea where she participated in the continuing maritime interception operations in support of U.N. sanctions against Iraq.
Escorting USS THEODORE ROOSEVELT through the Suez Canal in late April 1991, TURNER participated in Operation Provide Comfort, a massive relief effort to help tens of thousands of Kurdish refugees who fled the turmoil of Iraq following that country's defeat in the war. During this time RICHMOND K. TURNER became the Anti-Air Warfare Commander for the Aircraft Carrier Striking Force, U.S. Sixth Fleet.
She made a final deployment to the Mediterranean as a part of the USS THEODORE ROOSEVELT battle group and served as an anti-air warfare command during Operation Deny Flight over the Former Republic of Yugoslavia and Bosnia.
On August 9, 1998, USS RICHMOND K. TURNER was sunk as a target near Puerto Rico. The SINKEX was conducted by the USS ENTERPRISE battle group including the USS PHILIPPINE SEA (CG 58), USS THORN (DD 988), USS NICHOLSON (DD 982) and Carrier Air Wing 3.